It is a nursing care robot that has realized "visualization of nursing care scenes" while taking into account the personal information leakage prevention/privacy protection, as well as a monitoring type robot that supports operations for those in charge of nursing care/care workers aiming for unrestrained nursing care and self-reliance support. In addition, interlocked operations by the interactive robot and the monitoring robot realize callout functions suitable for living action and environment.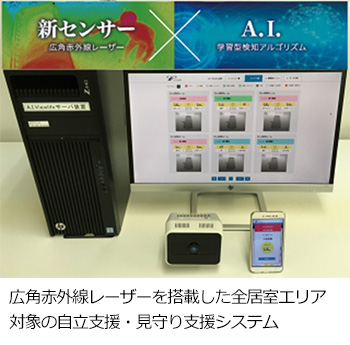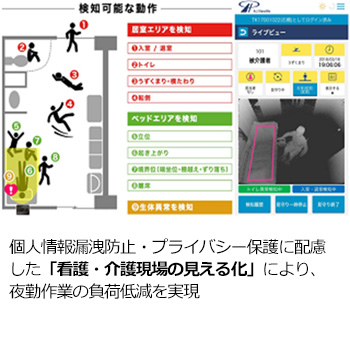 Adopting a wide angle infrared laser has enabled detection of hazard predictive actions and hazardous actions targeting the whole area in the living room, which the conventional sensors have never provided. * Hazard predictive actions (sitting up on a bed, sitting posture on the edge of a bed, bed fence crossing, sliding down from a bed, and leaving a bed ), hazardous actions (falling, crouching, lying down, toilet abnormality, and biological abnormality)
In addition, makes possible utilization of living action information (deep data) to support "Nursing care for better life" that is required in the Long-Term Care Insurance System .
Detection algorithm: structured analysis, skeleton/mass recognition
Bed position automatic setting: extraction technology for bed frame and height
Automatic correction of sensor angle
Prevention of erroneous detection by aid work
Real-time video distribution
Video communication control technology in a narrow band
Cloud compatible: edge computing compatible
※To become compatible with a cloud server on and after June 2018.
The name of the robot care equipment
A.I.Viewlife
Company name
A.I.Viewlife co., ltd.
http://aiview.life
Target area
・・Nursing care monitoring
・ Monitoring/communication
Expected target user
Dementia, the elderly, Aid-requiring/care-requiring persons, nursing care worker
Assumed environment
Hospital, nursing care facility, home.
Hospital: All areas in a hospital room (including beds)
Nursing care facility: All areas in a room (including beds)
Home: Bedroom
Sales date
Nursing care monitoring:April 2018
Monitoring/communication: April 2019
Contact number
03-6261-6327