Our product, Radarlight, is lighting equipment consisting of a radar, LED lights and a radio communication unit. It is designed to capture reflected waves with its built-in radar, analyze them for detecting the motions of the care-receiver, such as getting up, leaving the bed and a fall, and send an alarm to the caregiver if necessary. Radarlight is a non-contact device and installed on the ceiling, requiring no changes in the care-receiver's living environment while offering constant monitoring services.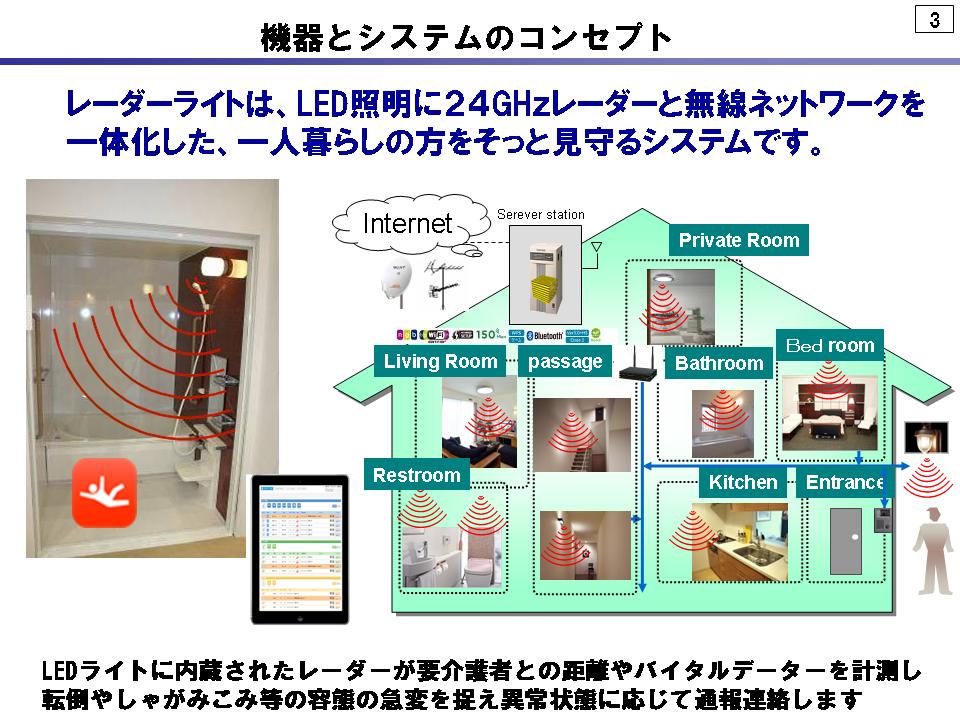 1.The monitoring camera is built in the LED lighting equipment attached on the ceiling, which eases the care-receiver's uncomfortableness from being watched all the time through conventional cameras and contributes to the protection of privacy.
2.The built-in radar in the LED lighting equipment enables non-contact measurement of the distance between the radar and the care-receiver and non-contact monitoring of his/her motions, and detects abrupt changes in positions and motions, such as a fall and crouch. (Unlike previous sensors, the care-receiver does not have to keep some kind of device on all the time.)
3.Our system can monitor the care-receiver 24 hours a day regardless of his/her whereabouts at home and send an emergency alarm to portable devices such as iPad.

1. 24 GHz radar
Size: 12 mm × 7 mm, CMOS process
World's best radar capabilities: Detection distance: 0-4 m, Detection range: 160 degrees (The radar covers an area of about 13 m2.)
The system supports three modes of 2chCW, FSKCW and FMCW.
2. Distance measurement (multiple measurements possible), minute displacement measurement (±3m, respirometry) and difference detection contribute to capturing clear images of the target person.
3. The system is equipped twith a web server, database, wifi and Bluetooth. Data and information can be viewed with smartphones and tablet computers through the Internet.
The name of the robot care equipment
Radarlight
http://radar-light.com/radar/demo.html
Company name
Consortium for promotion of monitoring and nursing care services with non-contact sensing using radar technologies
CQ-S Net
Panasonic Corporation
Matsue Laboratory, Tokyo University of Science, Suwa (radar technologies)
Nara Women's University (advice for system)
The University of Shiga Prefecture (development of auxiliary devices)
UNION TOOL CO. (manufacturing, sales)
Target area
Monitoring systems for dementia patients
Expected target user
Elderly people living at home (particularly, single-living elderly people), family members, nursing care providers
Assumed environment
Space: Indoor spaces at private homes: any spaces with lighting equipment on the ceiling including bedrooms, bathrooms, living rooms, staircases, hallways, kitchen, etc.
Time: 24 hours a day.
Sales date
Sep.2 2017
(Related article http://techon.nikkeibp.co.jp/article/NEWS/20141110/387943/?ST=ndh)
Contact department
Technical inquiry at CQ-S Net
UNION TOOL CO.
Go to Inquiry Form ( http://www.uniontool.co.jp) to contact UNION TOOL CO. for this product.
E-Mail
info@cq-snet.com