・In the event of abnormalities regardless of day or night, such as falls in the residence, crouching due to lesion, or falling out of the bed at night, etc., the system automatically detects them to provide a notification to caregivers.
・Helps care-requiring persons to voluntarily seek help, as well as caregivers who received the report to check the degree of urgency by calling out to the care-requiring persons, thus preventing severity from becoming higher.
・Use of non-contact sensors/cameras lets the care-requiring persons free from physical or mental burdens.
・Caregivers can check the safe life of their family not living together and care-requiring persons with images in real time through the mobile terminal, thus ensuring that the care-requiring persons spend their life with security in their accustomed residences.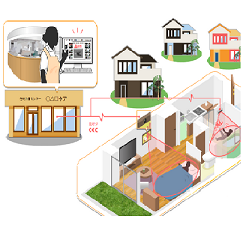 ・Detection function
Functions of abnormality detection with each sensor/camera helps detect the indication of hazardous movement of the care-requiring persons without any contact.
 ・Status check function
Automatically recognizes the care-requiring person's status through the mobile terminal, thus enabling a check with real-time images.
 ・Call function
Upon the notification of an abnormality alarm, the caregiver can talk with the care-requiring person through the mobile terminal to check the degree of urgency.
The name of the robot care equipment
Neos+Care
Hybrid sensor type home care monitoring system
Company name
Noritsu Precision Co., Ltd.
Target area
Home nursing care monitoring
Expected target user
Persons living alone with dementia, family of the elderly requiring a monitoring, care workers
Assumed environment
Monitors dangerous symptomatic actions in a place requiring a monitoring, such as a living room, bedroom, bathroom, toilet, corridor, and entrance, etc.
Sales date
FY2016
Contact department
Robot Business Project
Contact number
090-5157-0345