Our monitoring system performs 24-hour monitoring of stay-at-home care-receivers including dementia patients and sends an alarm to caregivers as soon as it detects an abnormality.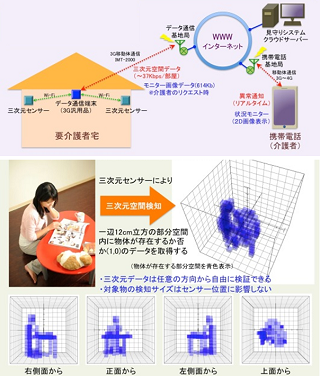 ・・Our system can monitor every living space in a private home including bathrooms even in the dark.
・Our system does not require care-receivers' voluntary actions like pushing buttons for help or any wearable or portable devices.
・Our system recognizes a fall and a prolonged crouching position as abnormal, detects care-receivers going out, and send an alarm to caregivers immediately.
・Our monitoring system uses 3D sensor modules for the protection of privacy instead of conventional 2D imaging cameras, which capture and show a fine texture of care-receivers.
・Our system also uses near-infrared light, which enables it to perform monitoring even in the dark.
・Our system monitors the care-receiver by using 3D sensors and detects abnormalities automatically based on information from the sensors. It does not require the care-receiver to keep a device on for being monitored.
The name of the robot care equipment
Cloud monitoring system using 3D sensors for home nursing care
Company name
Advanced Digital Technology Co., Ltd.
https://adtco.biz/
Logic Research Co., Ltd.
http://www.logic-research.co.jp/
Kyushu Institute of Technology
https://www.cms.kyutech.ac.jp/
Target area
Monitoring aid device for private homes
Expected target user
Caregivers of people requiring help including dementia patients
Assumed environment
Care-receivers' living spaces at private homes such as living rooms, bedrooms, bathrooms and hallways. 3D sensor modules are installed in such spaces and monitor care-receivers 24 hours a day, 365 days a year.
Sales date
Around April 2017
Contact department
Nursing Care Robot Project Team
Contact number
092-981-6886