"I hope I can keep living just as it is.
But I don't want to be a trouble for my family…"
We propose a monitoring system that supports an independent life of elderly people living alone or in an elder-to-elder nursing care situation.

・Sensors are installed in private homes of elderly people who need monitoring at home, and the system works to check their safety and detect accidents.
・Our system confirms the safety of the person by monitoring the power consumption.
・Infrared distance sensors detect accidents such as a fall and monitors the person going in and coming out of the bathroom.
・Information detected by sensors is sent to nursing care providers as either safety confirmation or emergency alarm.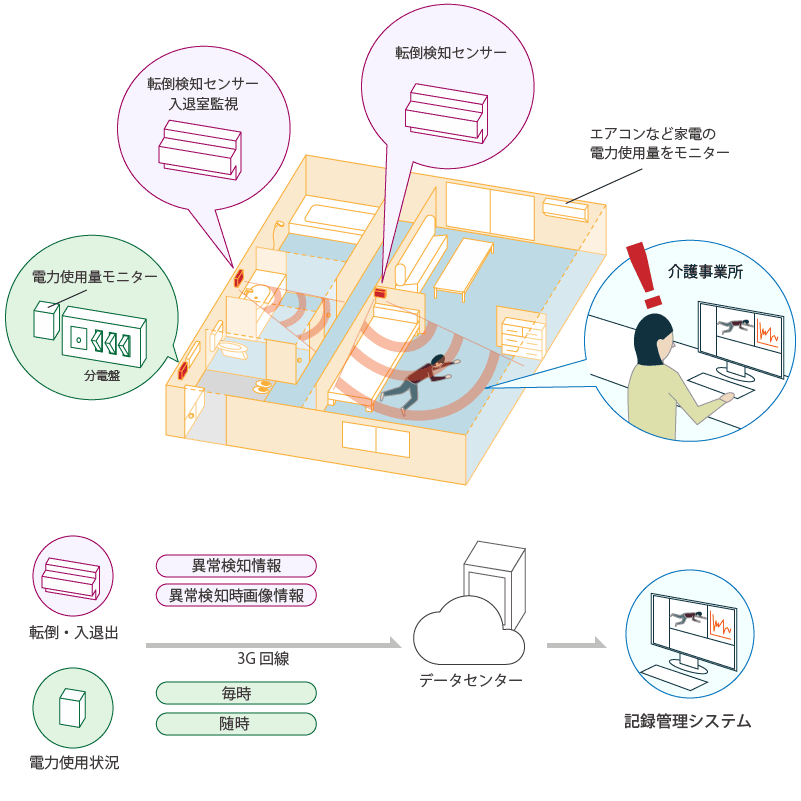 ・ Our monitoring system operates 24 hours. When detecting a fall, it sends an emergency alarm to a nursing care provider with an image of the person at the fall.
・The system works with multiple sensors. They can be installed in any spaces of a private home based on the needs, which reduces the risk of overlooking accidents in blind spots.
・The system is also designed to check the safety of the person by monitoring the power consumption and send a confirmation to a nursing care provider on a regular basis, which expands monitoring beyond the sensor coverage.
・The communication between the user's home and a nursing care provider uses a 3G channel and requires no additional Internet installation.
・Information from sensors is recorded in the data management system at a nursing care provider and available for regular reference.
・The infrared distance sensors capture the actions of the person as 3D distance images, based on which the monitoring system detects a fall by using its unique algorism.
・Sensor images only appear as 3D distance image for the protection of privacy.
・The monitoring system checks the power consumption on an hourly basis and sends an alarm to the nursing care provider when detecting an abnormality, which contributes to reducing the risk of false alarms.
・The monitoring system analyzes the care-receiver's power consumption in the past two weeks, learns the pattern and automatically sets a threshold to send an alarm about irregular power consumption.
・Wireless communication between the sensors used for our monitoring system is strong enough to penetrate walls and other household shielding structures which ensures the system's stable performance in the home environment.
The name of the robot care equipment
Elderly monitoring network system for private homes
Company name
Fuji Data System Inc.
http://www.flds.co.jp/
Target area
Monitoring systems for dementia patients at home
Expected target user
Elderly people requiring nursing care who live alone or in an elder-to-elder care situation
Nursing care providers including ones offering periodical visits
Assumed environment
Any spaces requiring monitoring for elderly people: bedrooms, bathrooms, hallways, etc.
Nursing care providers with an Internet connection
Sales date
January 2017
Contact department
Second Sales Section, Sales Department
Contact number
054-202-0300