Easy Monitor "Rakumi-ma" (tentative) uses an infrared three-dimensional distance sensor coordinating the position of the main patient (namely the position of the head) and notifies the state of the patient to caregivers by wireless LAN and nurse call.

Product Description

・It consists of the infrared sensor body and iOS terminal for operation and setting.
・The "all-in-one sensor" features various detection function.
・Wireless LAN compatible.

Product Characteristics

1.The detection capabilities covers all off-the-shelf products.
2.Reduces burden by monitoring function.
3.Can capture and output the detected date-time and the image.
4.Download software online.

Product Features

1.Single unit of sensor can detect "rising" > "out-of-bed" > "moving out of sensor range" or "moving within sensor range" > "in bed room" > "enter-bed", therefore, you do not need to use multiple sensors.
2.The image can be viewed in real-time, when there is a mobile device in the range of wireless LAN of the equipment.
3.Information detected are automatically saved to memory media of all the equipment. It can be transmitted to a computer using a wireless LAN connection.
4.Software installation and enhancement can be done over the Internet.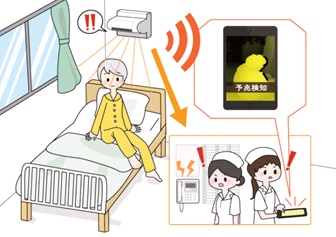 The name of the robot care equipment
Easy monitor "Rakumi-ma" (tentative)
Company name
Super Regional,Inc.
https://super-r.jp/
Target area
Monitoring dementia patient
Expected target user
Those who require care, caregiver
Assumed environment
Room of the main patient
Sales date
Around December 2014
Contact department
Sales Department IT Sales Group
Contact number
050-5526-6248
E-Mail
it-service@tky.super-r.net