・【Features】 A completely non-contact and unrestrained sensing device, the cared person does not receive any physical limitations when using this equipment.
・【Reliability】 The detection of a dangerous position is done by neural network algorithm using three-dimensional reconstruction of the human shape. Through analysis of motion information obtained from FG vision sensor, biological reactions can be detected which have low rates of false alarms.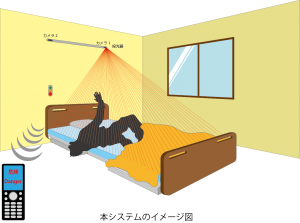 ・【Warning Speed】 The reaction time for the warning alarm to call out is fast (within 30 seconds or less) in the case of an emergency.
・【Privacy】 External report of the equipment is carried out only by telephone or through nurse call system, and the equipment does not include any image display. Therefore, there is no possibility that this equipment does impair the privacy of the patient.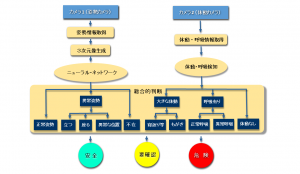 The name of the robot care equipment
Development of a Non-contact Tracking System for Dementia Patients used on beds using FG Vision Sensor
Company name
IDEAQUEST Co., Ltd
http://www.ideaquest4u.com/
Target area
Monitoring dementia patients
Expected target user
Caregivers (including family members at home) for monitoring people with dementia
Assumed environment
Rooms of dementia patients. Sensors are installed beside the pillow or bed and the controller where it is hard to reach, e.g., under the bed. The bed size does not affect the system. It starts monitoring when the main switch is tunred on. If the system detects the care-receiver in danger, it sends an alarm immediately to the caregiver.
Sales date
November 2015
Contact department
Bed monitoring system development, R & D department team
Contact number
03-6459-9776
E-Mail
robotcare-info@ideaquest4u.com