◾Non-contact method gives no physical, mental burden on the monitored subject.
◾Protect privacy by processing silhouette image of the body.
◾Can recognise in high precision by using three-dimensional data pattern.
The above characteristics, as compared to existing products, shows the small burden on the user and the subject, and can achieve automatic detection with high accuracy.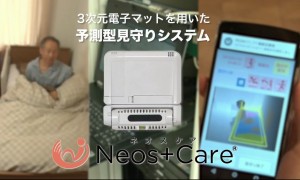 The name of the robot care equipment
Tracking System using Three-dimensional Electron Mat
Company name
NK Works Co.,Ltd
https://www.noritsu-precision.com/
Target area
Monitoring dementia patients
Expected target user
Care workers, helpers, nurses
Assumed environment
Around the bed of care facility, hospital room of inpatient (small private room, large shared room)
Sales date
October 2015
Contact department
Monozukuri Headquarters, Development Department, Software Development Division
Contact number
073-456-3966