Our monitoring system detects a dementia or elderly person leaving the bed by their predictive body position (getting up, sitting on the bedside, standing) and sends a message to caregivers immediately. The system helps communication between caregivers and care-receivers and among caregivers so that caregivers can locate care-receivers easily and be informed of whether or not care-receivers are in danger.

The monitoring system helps the nursing care staff in the following ways:

◾Detects signs of a care-receiver leaving the bed.
◾Sends a message quickly to nursing care staff and their office.
◾Allows nursing care staff to talk to care-receivers through cell phones.
◾Enables nursing care staff to monitor care-receivers through their cell phones.
◾Can be connected to existing mat sensors and nurse call systems.
◾Monitors several care-receivers at the same time.
◾Lets several givers use the system at the same time.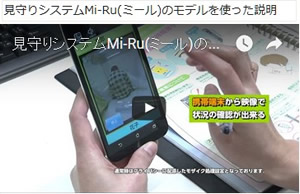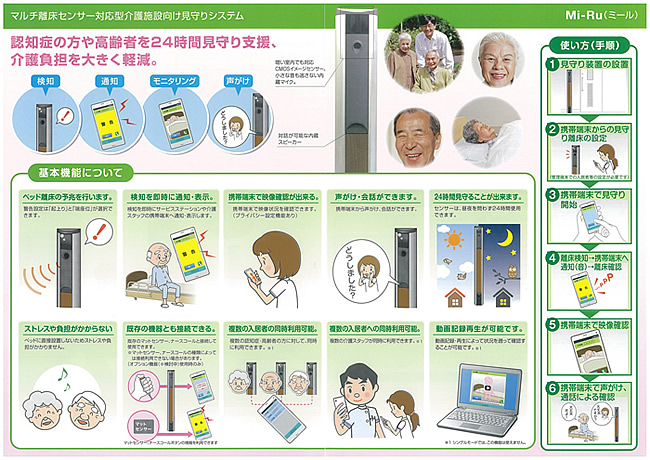 | | |
| --- | --- |
| The name of the robot care equipment | Monitoring system |
| Company name | Consortium for promoting the monitoring service system project |
| Target area | Monitoring system for nursing care homes |
| Expected target user | Nursing care staff for dementia patients or elderly people |
| Assumed environment | Nursing care homes that need to monitor mainly elderly people with dementia and other elderly people who are at a high risk of accidental injuries from trying to leave the bed alone (e.g., breaking bones from falling over or falling off the bed). |
| Sales date | Sometime in the first half of 2015 |
| Contact number | 072-785-9665 |
| E-Mail | mi-ru@yacelex.co.jp |