A monitoring system which utilize multiple complementing sensors to detect the patient tries to move out of the bed, and function to alarm the caregiver and stabilize the situation.

◾Wide range of monitoring is possible with multiple sensors complementing each other, with reduction of false alarms and misdetection. Also, we provide an interactive application to adjust to the level of care to those who require care.
◾If the patient is found in a endangered position, the situation should be stabilized through the monitoring-communication device in order to reduce accidents (falling, etc.) before the care workers arrives.
◾Reduce the notification costs to the care workers to 1/10 compared to previous system. In addition, notifications could be sent to multiple care workers.
◾To facilitate the integration with other sensors and system, is provided as an open system which implements the RT middleware that also has vast connection options of wired/wireless.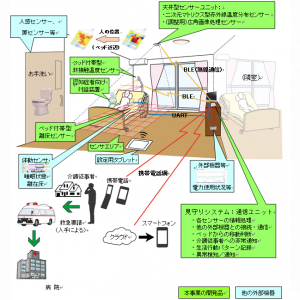 The name of the robot care equipment
Monitoring Support Platform for People with Dementia
Company name
Secretary corporation:Kyokko Electric Co., Ltd.
Consortium members:Paramount Bed Co., Ltd.
(Living space intelligence, Kyokko Paramount Consortium)
http://www.kyokko.co.jp/
https://www.paramount.co.jp/
Target area
Monitoring dementia patient
Expected target user
Care workers
Assumed environment
Common residence, nursing care facilities and hospitals
Sales date
TBD
Contact department
Kyokko Electronics Co., Ltd. Engineering Department Development Division
Contact number
(078)341-1837