The system is composed of "bedside sensor", "distributed sensor networks" and "monitoring server" for managing those data, by monitor over the entire facility starting from a stage around the bed by using "monitoring scenarios application" to give fine long-term care.
Scenario monitoring application

・Adaptive type
 Depending on the level of care or the individual behavior patterns, tailored "monitoring scenario" can be set to notify abnormal conditions.

・Integration type
 Algorithm to determine (or predict) behavior of the person with dementia from the multiple sensor information.

・Learning type
 Classify abnormal and normal by collecting sensor information of each scene of the main patient on the bed.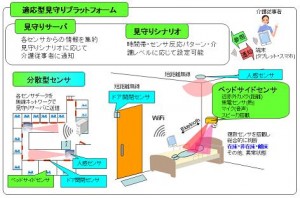 The name of the robot care equipment
"Adaptive Monitoring Platform" (tentative title)
Company name
Funai Electric Co.,Ltd.
https://funai.jp/
Target area
Monitoring dementia patient
Expected target user
Care workers use for the purpose of watching people with dementia (On the caregiver can also be used under the watch of care workers requiring long-term care`s terminal)
Assumed environment
Use in a facility that dementia patients live
Sales date
Around April 2015
Contact department
Development Engineering Division and Development Sales Department
Contact number
072-870-4488