・Overview    
Rise Assisting Robot "Reshone Plus" is a new concept nurcing care robot, which is an integration of nurcing care bed and reclining wheelchair.
 Using this robot, a care givers can transfer bedridden people easily, safely and smoothly by oneself.
 You can usually use it as a three-motor type electrical care bed. Moreover, a part of bed can be transformed into an electorical full-reclining wheelchair.
 If you slide bedridden people on the bed using a sliding sheet, you can transfer them between bed and wheelchair without lifting up.
 This robot is certified according to ISO13482, which is the new international safety standard for personal care robot. This robot satisfies the safety requirements for nursing care robot, so you can use it safely without any anxiety.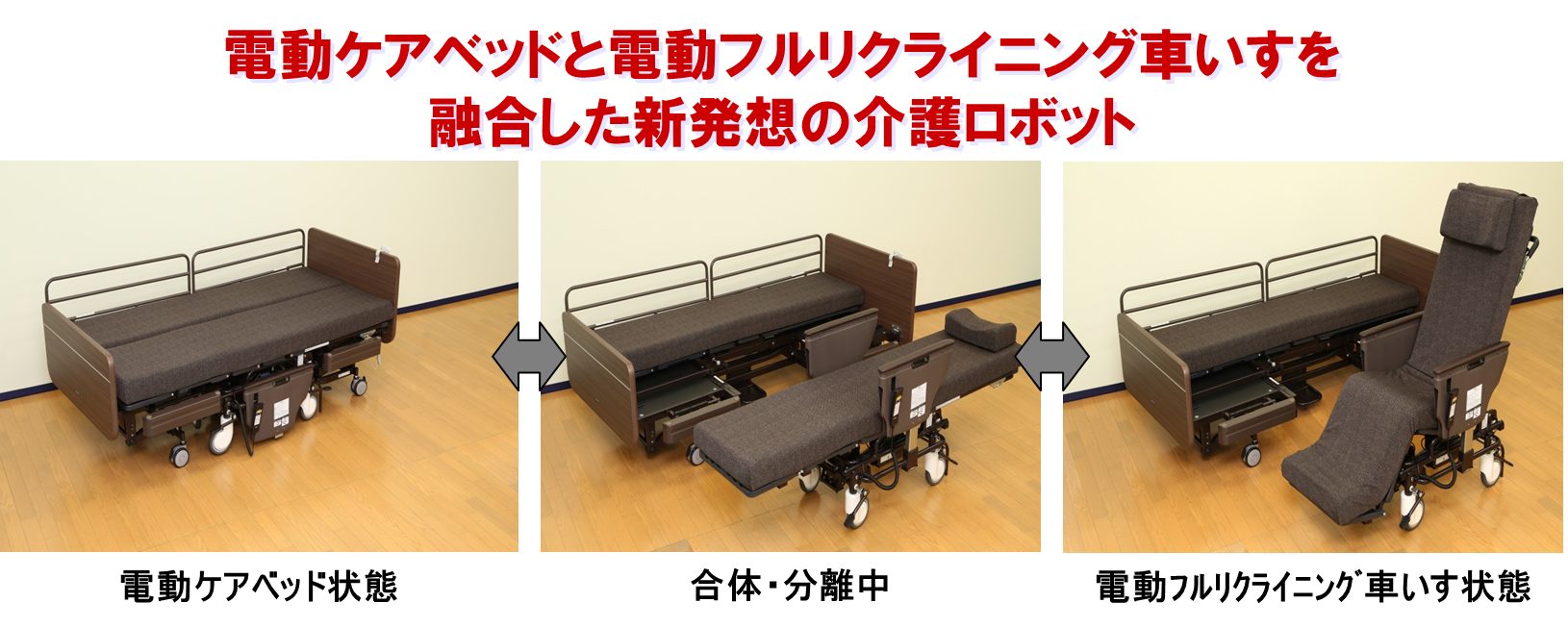 ・Main targets
Reshone Plus is the nursing care robot which support the follwoing people to rise from bed and participate more activities.

 (1)people who give up rising from bed due to physical risks (osteoporosis, subcutaneous hemorrhage, dermabrasion, tubal feeding, etc.)

 (2)people who will have more oppotunities to participate activities and expect improving QOL using this robot.

・Benefits
You can expect to have good effects as follows:

(1)Improving QOL
 Care receivers can be transferred in a comfortable position. So, they can have more oppotunities to participate activities and live an active life.

(2)Improving work environment
Care givers can transfer bedridden people without lifting them up by oneself. So, they can reduce physical burden, mental burden, and accidental risks for fall.

※URL
http://sumai.panasonic.jp/agefree/products/resyoneplus

The name of the robot care equipment
Rise Assisting Robot "Resyone Plus"
Company name
Panasonic AGE-FREE Co., Ltd.
https://panasonic.co.jp/ls/paf/
Target area
Non-wearable transfer aid
Expected target user
Those who need all the transfer assistance between a wheelchair and bed
Assumed environment
Nursing care facilities, home
Sales date
Now on sale
Contact department
Sales Planning Department, Care Products Business Division
Contact URL
下記URLよりお問合わせください。
https://sumai.panasonic.jp/agefree/
Contact number
06-6908-8141